The Bottom Line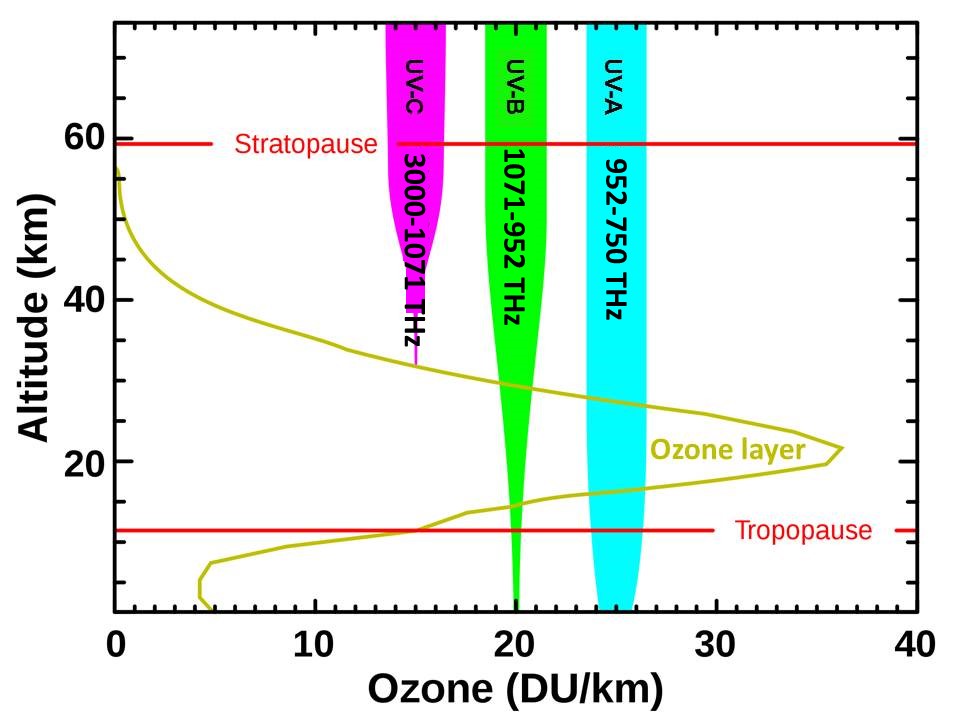 The atmosphere absorbs the highest energy ultraviolet solar radiation before it can damage life on Earth. How much of this high-energy radiation reaches each altitude determines the physical, chemical, and thermal structure of Earth's atmosphere. The ozone "layer" is not a static layer of gas, but a region in the atmosphere where sufficient high-energy solar ultraviolet radiation is available to form and destroy ozone in an endless cycle (The Chapman Cycle), each primary step of which warms the stratosphere. The lifetime of a molecule of ozone in the stratosphere can be as short as seconds in the upper stratosphere and is about 22 days in the lower troposphere. When the normal amount of ozone is depleted for whatever reason, some of the solar ultraviolet energy that drives this cycle is not absorbed in the stratosphere but penetrates to Earth where oceans absorb it very efficiently, cooling the stratosphere and warming Earth.
Major explosive volcanic eruptions form aerosols in the lower stratosphere that reflect and disperse sunlight, cooling Earth approximately 0.5oC for a few years. These explosive eruptions also deplete ozone, warming Earth in winter, but cooling caused by the aerosols predominates. Effusive, basaltic volcanic eruptions, even small ones, on the other hand, warm Earth by depleting ozone just as much as large explosive eruptions but not exploding gases high enough to form substantial aerosols. Climate throughout Earth's history has been controlled primarily by the mix of explosive and effusive volcanism, which is determined by the details of plate tectonics, the movement of large segments of Earth's surface relative to each other.
Global warming between 1970 and 1998 of approximately 1oC (1.8oF) was caused by human manufactured chlorofluorocarbons that depleted ozone. Through the Montreal Protocol, we have stopped such manufacturing and ozone depletion is decreasing, but Earth will not cool down. We have increased Earth's thermostat and must live with the results as we approach a new thermal equilibrium.
Greenhouse gases did not cause this global warming and reducing carbon emissions will not affect climate, although it might reduce ocean acidification.
Specific conclusions explained in detail on this website are:
Each of these conclusions is explained in detail on this website.